Dennis Joins the PLeace For Golf Event!
I am excited to announce I have joined the team at PLeace For Golf! I am participating in events held at Limpopo, South Africa on April 13th to 16th; and in Indian Wells, California on November 2th to 5th! All PLeace for Golf events support a great cause and I am honored join the cause.

The PLeace Awaken Celebrity & Living Legends Golf Tour is a series of celebrity golf events initiated for the betterment of those who are overlooked, and for those who have lost their voice. The approach of PLeace Awaken is to be involved at grass root level in projects for education, shelter, new medical solutions, high-tech environmental cleaning methods, nature and animal conservation, and new policy integration.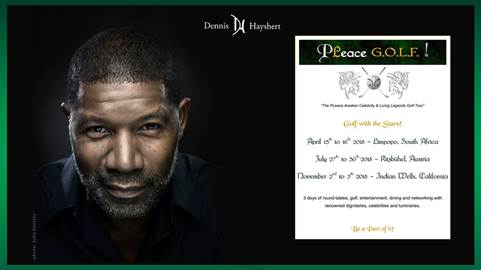 Our goal is bringing people of influence from entertainment, sports and politics together – and initiate large-scale, nongovernmental projects that bring about lasting change that can be integrated into regional development policies. In a think-tank and round-table-conference style, PLeace GOLF sets the stage with music, food and podium discussions, where professional golfers, celebrities and economic leaders get together for a round of golf to help create positive change in different areas around the world.
Learn more by visiting the organization's homepage
here
and join me in supporting the vision. When we all work together, we make a better world!
-Dennis