WELCOME TO MY OFFICIAL WEBSITE
Thank You For Stopping By!
The New Year is here. Are you excited like I am? 2022 was full of blessings and I look forward to even more in 2023!
On a personal note … when I think about the gifts in my life, one of the first things that comes to mind is you and all my fans around the world. I am honored and grateful to see your comments on my social media pages. They brings a smile to my face every time – when I'm on a plane or on set – I love seeing your warm, loving messages.
As we all get ready for summer, let's all remember to be kind to one another, honor everyone in our life, and do all we can to keep each other safe and healthy. We have come a long way – together – and we have so much further to go!
Now, let me tell you about some of the cool things happening with me – and be sure to share the cool things happening with you on my social media pages!
DENNIS JOINS FLAMIN' HOT

Production recently wrapped on the Fox Searchlight Biopic, which is Eva Longoria's directorial debut. The film details the story of Richard Montañez, a Mexican-American janitor who created the iconic "Flamin' Hot Cheeto" flavor.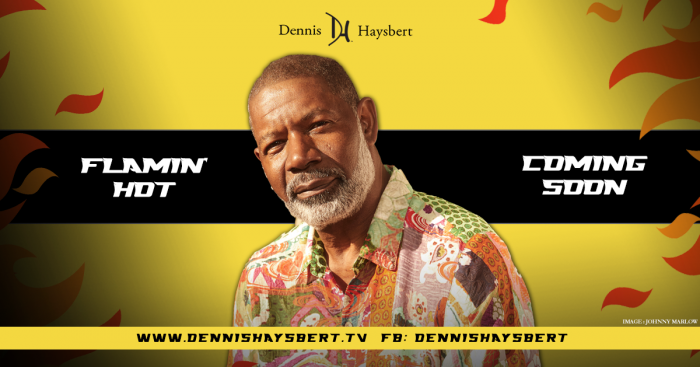 The Cheeto flavor has become a global pop culture phenomenon and the story wowed producer DeVon Franklin."From the moment I found Richard Montanez's story, I was inspired by his sheer determination to succeed against all odds."
The film includes an impressive cast: Jesse Garcia, Annie Gonzalez, Emilio Rivera, Tony Shalhoub, Matt Walsh,Pepe Serna, Bobby Soto, Jimmy Gonzales, and me … Dennis Haysbert!
The film is premiering on Hulu June 9th and you know this film is going to be filled with drama and good times. Stay tuned to my Facebook, Instagram, and Twitter for upcoming release info.
CHECK OUT MY 2023 COLLECTION
Looking for a new look in 2023? Visit my DH9 Golf Clothing Store to shop!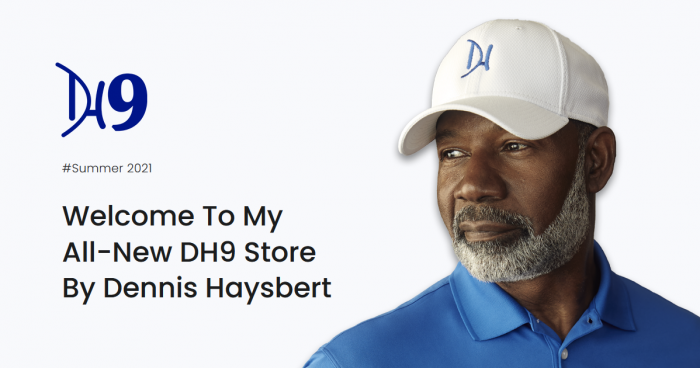 I created my DH9 Golf Clothing with a signature design that helps you look and feel amazing. I love the idea of you turning heads while wearing my DH9 Golf Polo and DH9 Golf Hat.
This year's Holiday Collection includes Golf Polos, Golf Hats, Face Masks, and Neck Gaiters in Blue and Black. They are comfortable and feature my stylish DH9 Logo – and they are a perfect combination for a day on the links.
I look forward to seeing how great you look wearing DH9!
Here's a link to my online store!
LIGHTS, CAMERA, ACTION! YOU READY TO PLAY MY NEW TRIVIA GAME?!
Yes! My all-new Dennis Haysbert Trivia Game Volume 8 is ready to play! A lot has happened since Vol. 7 and I have a new round of fun questions waiting for you to answer!
One of the things my fans tell me is how much they enjoy playing my Games. I love hearing about the reactions people have and it is very inspiring to learn how much people know about my career.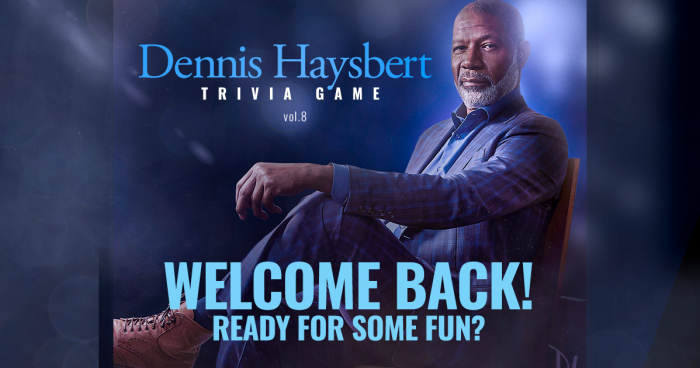 Volume 8 has questions about Lucifer, Playing With Fire, Breakthrough, and many more! After each question, I share behind-the-scenes insight that you can only get from my Trivia Games. So have GREAT time playing … and learn what it was like being on the set of these great projects!
Shout out to Jennenne Macklin for narrating, Bob Thole for providing the score, RGM and Hummingbird Studios for their excellent production.
Ready to play? Click here!
CHECK OUT MY SCREENING ROOM!
Every now and then, we all enjoy kicking-back watching great films and TV shows. That's why I put together a collection of my favorite projects that you can access and watch directly from my official website!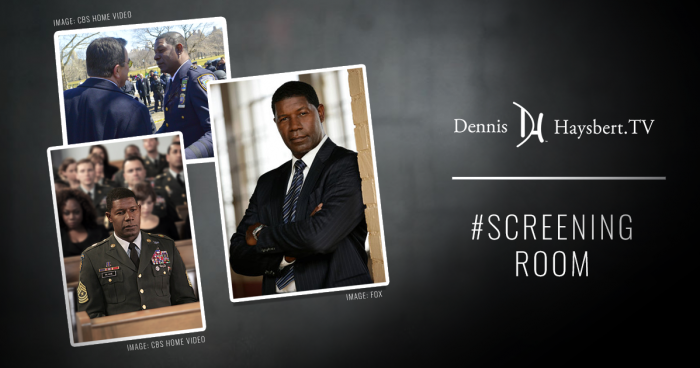 Right now in my Screening Room – you can stream my TV shows instantly via Amazon Video, Netflix, and Crackle! Throughout my career, I have starred in action movies, romantic comedies, and dramas. Whichever genre if your favorite, you'll find it on my website!
THANKS AGAIN TO MY TEAM
I want to take a moment and say thanks to some great people in my life. Behind the scenes they do a lot of work that keeps my career moving forward. They put in a lot of hours, keep me on schedule, and push me to keep expanding and growing. I appreciate all of you and thank you for making this journey extraordinary.
GEEVANI SINGH AND GS MANAGEMENT GROUP, INC.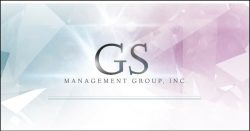 My life jumped into a speeding train 13 years ago when Geevani Singh became my manager. With every twisting turn this fast-life brings, Geevani is my stabilizer. She keeps everything organized, planned, and in balance.
I am grateful for her energy, talent, and dedication.Thank you, Geevani. You are extraordinary.
MY DEAR FRIEND, JENENNE MACKLIN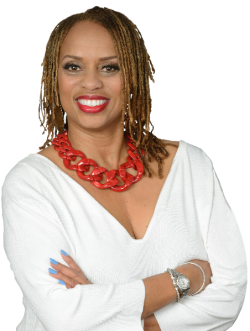 Rev. Jenenne Macklin is a constant source of inspiration in my life and career. She keeps me focused and clear throughout my busy schedule and I am proud to have her on my team.
Jenenne has a new book in the works, called Money Mastery Now that I am looking forward to reading!
Thank you, Jenenne, for being part of my Team and for bringing your incredible talent to my Trivia Games!

PAVING THE ROAD AHEAD: HUMMINGBIRD PRODUCTIONS

Every day I am amazed at how my schedule and body of work comes together. It almost seems like magic. But there is a mastermind behind it all … and her name is G.
Hummingbird Productions keeps me at the forefront of technology, fashion, and digital media. Thank you, G for your vision and dedication. You are astounding.
RGM GLOBAL MEDIA MARKETING AND ADVERTISING: MAKING MY BRAND VISIBLE TO THE WORLD!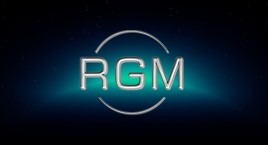 And … now I want to shout-out to Rikk Galvan's firm: RGM Global MMA.
RGM is the digital content developer for the Dennis Haysbert brand and my DH6 Store. RGM is our resident "group of scientists" who create my library of digital content, earning multiple award nominations and worldwide recognition.
RGM builds and maintains my Internet sites, produces my original music, and manages the global distribution of DH9branded merchandise. RGM is also the developer of my Trivia Games Volume 1-8. Have you played?
MY STYLIST: MARLA REID OF MAKEWAY GURLZ, INC!

From the runway, the boardroom, and a weekend getaway – Marla Reid knows exactly how to keep her clients in powerful wardrobe that is current and elegantly stylish.
Marla keeps me looking sharp everywhere I go. She is awesome.
Learn more about Makeway Gurlz on the GS Management Group, Inc. website!
NEW PHOTOS BY JONNY MARLOW

Do you love my new photos as much as I do? Here's a shout-out to Jonny Marlow and Early Morning Riot.
We did this great photo shoot in the rain right before I traveled to shoot new movie. Jonny has a great eye and I'm so happy we got to work together.
Thanks, Jonny!
SPECIAL THANKS TO YOU
Every day, my career gets better and better thanks to Friends and Fans like you. 2020 has a lot of surprises in store for us, so let's all take a deep breath and get ready for the good things coming our way.
Be sure to keep sending me messages on Facebook, Twitter, and Instagram. I'll respond as fast as I can.
For all business matters, contact me through my manager, Geevani Singh, at this link.
Be sure to visit often because there is always something fun to see, do, and get at www.DennisHaysbert.tv and www.DH6Store.com.
Have a wonderful day and happy holidays!
-Dennis