ABOUT ME – OFFICIAL SITE FOR DENNIS HAYSBERT
Hey, there! Thanks for stopping by and saying hello! 😊 Fall is here and there are so many exciting things happening! My film Breakthrough opened in April and inspired audiences across the country. I shot a new movie for Netflix called Secret Obsession. And … I just launched an ALL-NEW Trivia Game Volume 7 the same week as 2019's E3 Expo!
With all this in mind, I thought I would take a break from set and share all the amazing things happening right now!
ALL-NEW TRIVIA GAME VOLUME 7!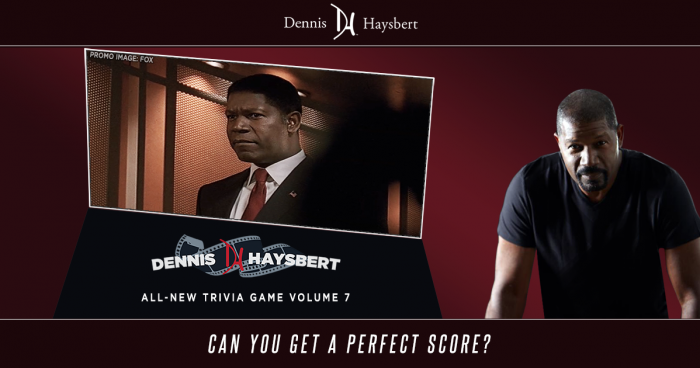 I am excited to announce that my ALL-NEW Dennis Haysbert Trivia Game Volume 7 is "LIVE" and waiting for you to play!
This time, I asked my Facebook Friends "what are your favorite characters I have played on TV." Their answers, plus a few of my own, make up the questions and answers in The Dennis Haysbert Trivia Game Volume 7. I also share some insights about these characters, plus an awesome commercial I did in 1979!
Joining me again as our narrator … is my pal, Jenenne Macklin. Trivia 7 also includes another original song by Bob Thole; with special thanks to GS Management Group, Inc. and RGM for producing another great game! Ready to Play? Click this link and let's see if you can get a perfect score!
NEW FILM – SECRET OBSESSION!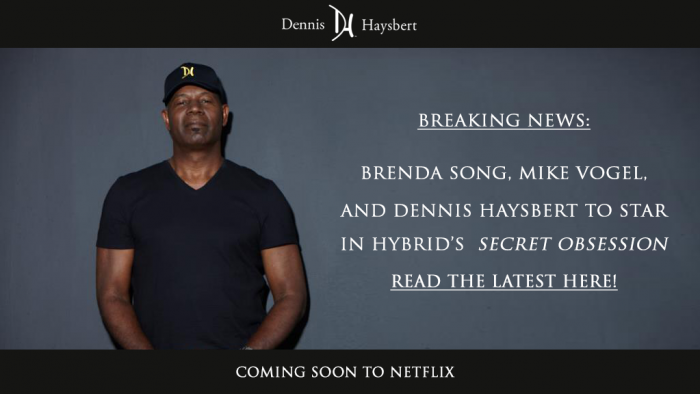 My new Netflix film is called Secret Obsession. The story follows a woman who is left with amnesia after a violent attack. When her memories start to come back, she realizes she is not sure who she can trust … and that includes those closest to her!
The film is directed by Peter Sullivan and stars Brenda Song, Mike Vogel, and Yours Truly!
I'll have more info as we get closer to our release. Stay tuned to my Facebook, Twitter, and Instagram feed for breaking news.
DID YOU SEE MY MOVIE, BREAKTHROUGH? See it again when it comes to Digital, Blu-Ray, and DVD!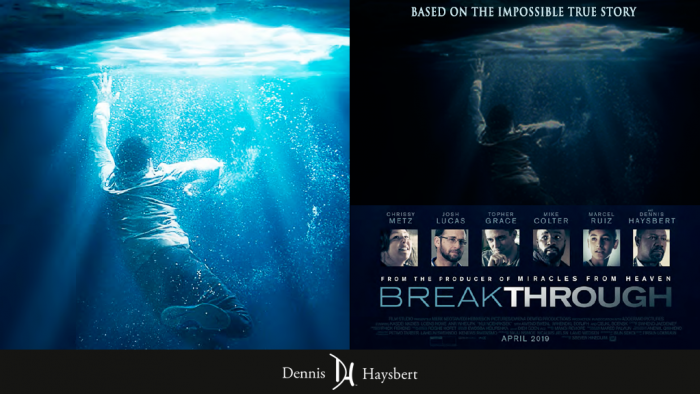 My faith-based movie Breakthrough is making its Digital Distribution premiere on Tuesday, July 2nd – followed by the Blu-Ray / DVD release on Monday, July 16th.
Breakthrough is produced by Devon Franklin and follows the story of Joyce Smith, a mother whose son makes a miraculous recovery after falling through an icy lake in Missouri. After being submerged for 15 minutes, many people believed John would not survive. Thankfully, through the power of love and prayer, Joyce brings her son back!
I play Doctor Garret, the lead doctor at Cardinal Glennon Hospital. A man of science and reason, Dr. Garret tries to save John but is limited by his medical point of view – until he has a breakthrough of his own … and learns the power of faith!
Breakthrough also stars Chrissy Metz, Topher Grace, Josh Lucas, Mike Colter, Marcel Ruiz, Isaac Kragten, Ali Skovbye, and Taylor Mosby.
Here is a picture of me on set with Mike Colter (From Marvel's Luke Cage), with Topher Grace in the background.
See this movie! It is a great story with lots of love and heart.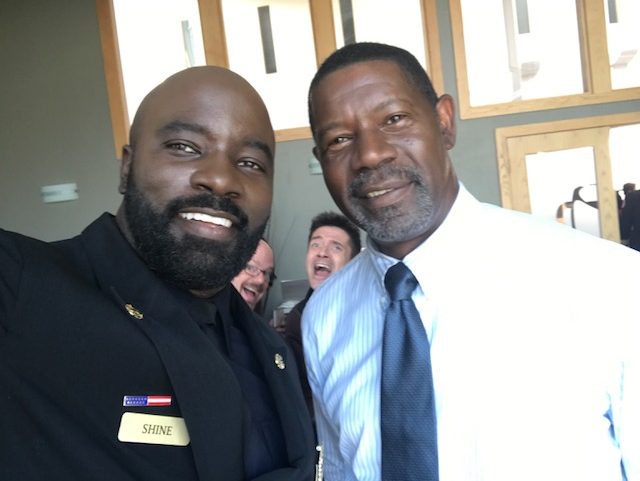 CHECK OUT MY SCREENING ROOM!
Every now and then, we all enjoy kicking back watching great films and TV shows. That's why I put together my collection of favorites that you can access and watch directly from my official website!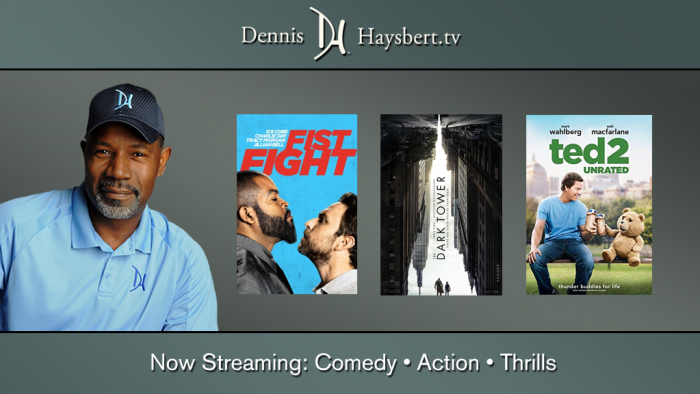 Check out the Screening Room on www.DennisHasybert.tv and stream my shows instantly via Amazon Instant Video and Crackle! Throughout my career, I have starred in action movies, romantic comedies, and dramas. Whichever genre if your favorite, you'll find it on my website!
THANKS AGAIN TO MY TEAM
As we head into the second half of 2019, I want to take a moment and say thanks to some great people in my life. Behind the scenes they do a lot of work that keeps my career moving forward. They put in a lot of hours, keep me on schedule, and push me to keep expanding and growing.
GEEVANI SINGH AND GS MANAGEMENT GROUP, INC.
Twelve years ago, Geevani Singh began
managing my career and ever since that first day, my life has changed forever. And you know what? Every year keeps getting better! I am constantly amazed by her talent, determination, and dedication.
Once you meet Geevani, you'll never forget her. She has an amazing way of getting things done. We have travelled the world making great TV shows, commercials, movies, and more. I am very grateful for the way she shapes and guides my career.
Thank you, Geevani. You are extraordinary. I look forward to the next twelve years and more!
MY DEAR FRIEND, JENENNE MACKLIN
Next, let me say thanks to Rev.Jenenne Macklin.
Jenenne's coaching is a constant supply of inspiration in my life and career. I attribute her with keeping me focused and clear throughout all my busy schedules. Her roster of clients is exclusive and I am proud to have her on my team, and in my ear.
Jenenne has a very distinct way of articulating the connection between thinking about … and doing something about … that results in a mindset-shift for success. Beyond a coach, she is a powerful speaker and author who hosts workshops and luxury retreats that empower women to step into their vision of what their life could look like, while guiding them to re-write their blueprint for success.
It is a powerful experience seeing people work with Jenenne and realize their "ah-ha" moments that realign their goals with their dreams.
Thank you, Jenenne, for being in my life and for adding your talent to my Trivia Games!
MY STYLIST: MARLA REID OF MAKEWAY GURLZ, INC!
I am always excited to talk about my exclusive stylist, Marla Reid ofMakeway Gurlz Inc.
From the runway to the boardroom, to your weekend getaway – Marla creates a greater version of you in a wardrobe that is current, powerful, and elegantly stylish.
Marla keeps me looking sharp and you know what? I think she is awesome!
Learn more about Marla on the GS Management Group, Inc. website!
PAVING THE ROAD AHEAD: HUMMINGBIRD PRODUCTIONS
Every day I am amazed at how my schedule and body of work come together. It almost seems like magic. But there is a mastermind behind it all … and that mastermind is G at Hummingbird Productions.
G leads multimedia production and digital distribution for many of my projects, including: movies, TV shows, commercials, official websites, DH6 Signature Clothing, original Dennis Haysbert Music, Trivia Games; and the new digital content we have coming this year.
Thanks for keeping me in the forefront of technology, G!
Your vision and dedication are astounding. You are the best!
RGM GLOBAL MEDIA MARKETING AND ADVERTISING: MAKING MY BRAND VISIBLE TO THE WORLD!
And … a final shout-out to everyone at Rikk Galvan's firm: RGM Global Media Marketing and Advertising!
RGM is the digital content developer for the Dennis Haysbert brand and DH6 Store.RGM also manages the team of "scientists" that help me reach global audiences. The library of digital media they make has received multiple award nominations and worldwide recognition.
RGM creates and maintains my Internet sites, produces my original music, and manages the global distribution of DH6 branded merchandise.
RGM is also the developer of my Trivia Games Volume 1-6, and Volume 7 is on the way!
How exciting! Thanks, Rikk!
THANK YOU EVERYONE!
As you can see, there are a lot of things happening behind the scenes. Thank you to everyone listed above and all your associates. I am honored to have such an A-list team of intelligent, centered, and amazingly talented people. I love you all.
And, a SPECIAL THANK YOU to all my fans and friends around the world – for watching my movies and TV shows, wearing my DH6 Signature Clothing Line, and sharing my work with your friends and family. My career began in the 70s and thanks to you, it keeps growing stronger every year.
HAPPY NEW YEAR!
Thanks again for stopping by today. It's time for me to head back to the set, now. In the meantime … keep sending me messages onFacebook, Twitter, and Instagram. I'll respond as fast as I can and keep you updated on all the new projects I have coming this year.
For all business matters: Contact me through my manager, Geevani Singh at this link.
Be sure to visit often because there is always something fun to see, do, and get … at www.DennisHaysbert.tv andwww.DH6Store.com.
Have a wonderful day!
-Dennis