Dennis Stars in 2018's Hallmark Hall of Fame Holiday Movie – Christmas Everlasting.
Get ready! Hallmark Channel presents an all-new holiday Christmas movie starring Dennis Haysbert, Dondre Whitfield, Patti LaBelle, and Tatyana Ali! Get your shopping done early and cozy up to your television on Saturday, November 24th, at 8PM (7C). This is a world premiere movie you don't want to miss: Christmas Everlasting!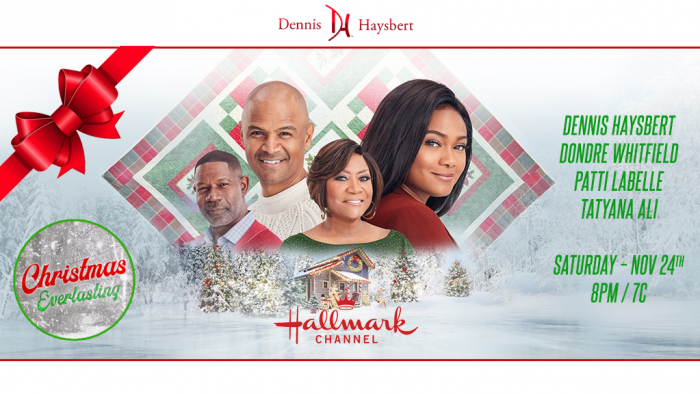 This Hallmark Hall of Fame Movie follows Lucy (Tatyana Ali), who gets the best Christmas news ever when she finds out she's made Partner at her top New York law firm. But when Alice, her special-needs sister passes away, Lucy must return home to Nilson's Bay, Wisconsin to attend the funeral and handle her estate.
Once in Nilson's Bay, Lucy meets with Peter (Dondre Whitfield), her old high school sweetheart and Alice's former attorney, who informs her the terms of her sister's eccentric will states in order for Lucy to inherit the family home … she must live there for 30 days through the holidays.
Says Dennis, "Working with Patti LaBelle is a dream" — and working with this amazing cast and the Hallmark Hall of Fame is also a dream. Lucy gets to manage the relationships of her relatives, their traditions, and reconnect with an old love — and the film touches our hearts the way a great Christmas movie always does.
Christmas Everlasting stars Dondre T. Whitfield, Patti LaBelle, Tatyana Ali, and Yours Truly. Check out the "behind the scenes" video here and set your DVR to record on Saturday, November 24th at 8PM (7C.
Here's a preview: