Dennis Haysbert Reprises His Role as General Lyons in "Dead Rising: Endgame" – Now Streaming!
It's official! Dennis Haysbert stars in the all-new Zombie sequel, "Dead Rising: Endgame"!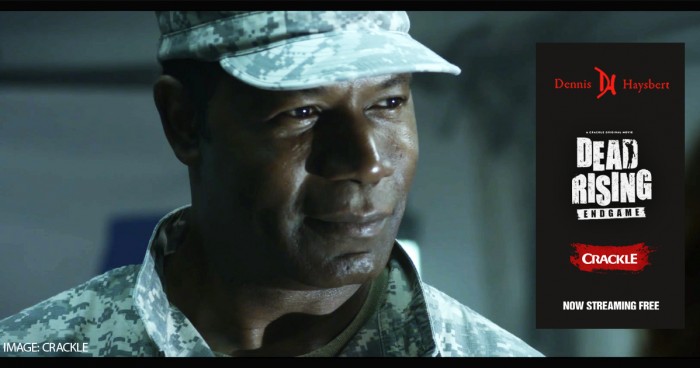 The sequel to "Dead Rising: Watchtower" is here and fans of Capcom's "Dead Rising" video game series are excited to see the latest installment! The film series is based on videogame series – and "Endgame" takes us back to East Mission City where zombies are wreaking havoc, and investigative reporter Chase Carter leads survivors to stop a government conspiracy that threatens to kill millions. The film also features the zombie action and improvised weapons that fans loved from the first film.
The all-new sequel stars Dennis Haysbert, Jesse Metcalf, Billy Zane, Ian Tracey, Marie Avgeropoulos, and Keegan Connor Tracey. Directed by Pat Williams and produced by Tim Carter, "Dead Rising: Endgame" is made by Contradiction Films and distributed by Crackle.
Stream the film now on Crackle and Xbox Live!
Check out the trailer below!
The Sequel to "Dead Rising: Watchtower"
"Dead Rising: Watchtower" is an American action horror zombie film directed by Zach Lipovsky, produced by Tomas Harlan and Tim Carter, and written by Tim Carter. It is based on the video game of the same name.
Legendary Pictures produced the picture as its first digital film through its Legendary Digital Media division, and it was released on Crackle on March 27, 2015
The film takes place between the events of [the video games] "Dead Rising 2" and "Dead Rising 3" – following the story of online reporter Chase Carter and his camerawoman Jordan, as they cover the stories of the people inside of the walled-in quarantined area in the fictional town of East Mission City, Oregon. In the storyline, the government (running an organization called F.E.Z.A.—Federal Emergency Zombie Authority) attempts to contain a viral outbreak that turns people into ravenous zombies.
* Source for info above: Wikipedia, the free encyclopedia :- )
"Dead Rising: Watchtower" stars Dennis Haysbert, Jesse Metcalfe, Virginia Madsen, Meghan Ory, Keegan Connor Tracy, and Rob Riggle.
Watch the Trailer for Dead Rising: Watchtower
Now playing in Dennis' Screening Room!
Images and Logos: Legendary Digital and Contradiction Films. All rights reserved.