Dennis' Joins Cast of Faith-Based Movie Breakthrough
What is Dennis up to? He just wrapped an on-location shoot for DeVon Franklin's movie, Breakthrough.
The movie follows the story of Joyce Smith, a mother whose son (John) has a miraculous recovery after falling through ice is Missouri. After remaining underwater for 15 minutes, the prospects were dim for John. However, with love and prayer Joyce is able to bring him back.
Dennis plays the lead doctor at Cardinal Glennon Hospital. A man of science, he tries to save John but only sees things from a medical point of view … until there is a breakthrough!
Dennis joins the cast that includes Chrissy Metz, Topher Grace, Josh Lucas, Mike Colter (pictured with Dennis below), Marcel Ruiz, Isaac Kragten, Ali Skovbye and Taylor Mosby.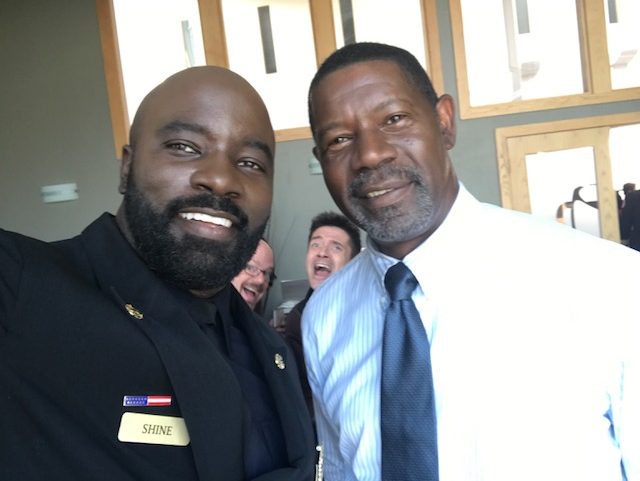 Mike Colter and Dennis Haysbert on the set of Breakthrough. Image courtesy of GS Management Group, Inc.
Read the announcement of Breakthrough as reported by Deadline on April 25, 2018. Learn more about the Fox 2000 film on IMDB. Release info coming soon. Stay tuned for updates on Dennis' Facebook Page.
---
Have you played the all-new Dennis Haysbert Trivia Game, Volume 5? Check it out here! Can you get a perfect score?